What do you exactly think when you hear the name Ladakh?
Well, for most of us it is the land of the mighty Himalayas, glossy glaciers, sparkling emerald lakes, azure sky, and swirling roads.
But wait, there is much more to it. Ladakh is also very well known for its unique culture, super delicious Ladakhi cuisine, absolutely satisfying Momos, warm friendly people, and a welcoming atmosphere.
The rare beauty of Ladakh beckons many travelers to have fun in the open skies amidst soaring mountains and awe-inspiring landscapes. It is a great place for adventure sports and there are some amazing places to visit in Ladakh that are absolutely incredible and mind-boggling. It is unquestionably one of the most appealing holiday destinations in the world. What are you waiting for?
Get set for the most soothing, stunning, and adventurous holiday of your life. Let's explore this alluring place through our Leh Ladakh travel guide and get engrossed.
Best  Tourist Places To Visit In Ladakh 2021
Ladakh has a bundle of fascinating places and attractions and you are going to love every second of your holiday here. Although there is a long list of places to visit in
Ladakh, here are a few must-visit places.
Nubra valley: Valley flower of Ladakh
Pangong lake: stunning Blue lake
Hanle: large historic village in
Zanskar Valley: Snow region
Changla pass: 2nd highest Motorable road
Alchi Monastery: world Heritage
Lamayuru Monastery: Moon land view
Khardung la pass : Highest Motorabe road
Turtuk Village: the taste of Baltistan Culture
Leh palace : Ladakh Royal Palace
Rancho School : 3 Idiot school
Shanti stupa: Build for world peace
Hemis monastery: Oldest Monastery in Ladakh
Thiksay Monastery : Mini Potala Palce
Shey palace: Summer king residency
Siachen base camp: Beautiful Karakorum Range
Hall of fame: museum/war memorial house
Chadar trek : Zanskar frozen river trek
Sonam: Stunning hill station
Tsomoriri lake: picturesque high-altitude lake
Magnetic Hill: Rolling downhill
Sangam Point: Zankser & Indus river confluence
Hemis National Park: world-famous for its majestic snow leopards,
Stok palace: Beautiful palace
Pang: Beauty of Long drive
Stok Kangri: Highest expedition in stock range
Tanglang La: One of the highest pass in the world
Markha valley: Baby trek  destination
panoramic hot water spring
lamayuru : Moon land of Ladakh
Mulbek Chamba: 1000-year-old Maitreya Buddha rock-carved
Ladakh conclave: presenting the rich culture of Ladakh
Jispa: valley of beauty with river
Tsokar Lake: famous for bird watching trip
Darcha: beautify of Lahaul
Gata Loops: most scenic drive in Himalayan
Spituk Monastery: Beautiful Monastry
Suru Valley: Beauty of Kargil
Kargil war memorial: war memorial built by the Indian Army
Kargil: LOC
Atal tunnel: it is the longest tunnel
Secmol Campus: Educational and Cultural Movement
Mahabodhi Meditation center: the practice of mind
Ice stupa: Mesmerising artificial glaciers in Ladakh
Pathar Sahib Gurudwara: beautiful Gurudwara sahib
Basgo palace: stunning palace
Phyang Monastery: spiritual destination
Apricot flower in Ladakh: Apricot Blossom season
Lamayuru Monastery: view of the mainland
Pangong Tso Lake: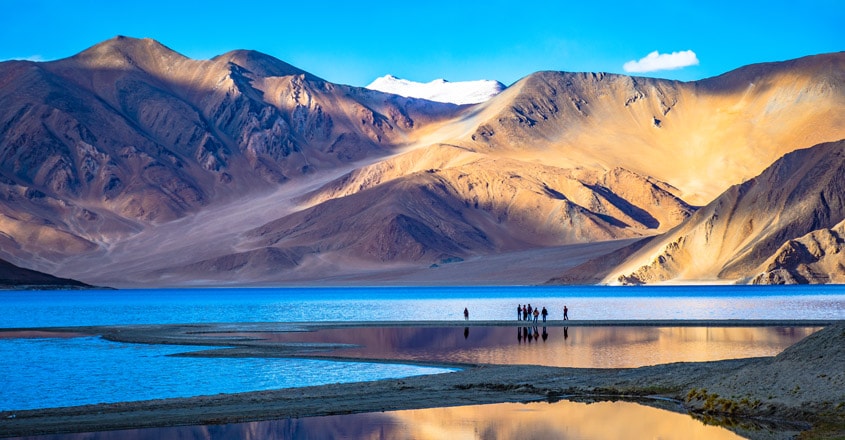 Located at a breathtaking taking height of about 4350 meters, on the Indo-China borders, Pangong Tso is a beautiful glacial lake and one of the best places to visit in Ladakh. Boasting of being the world's highest saltwater lakes, Pangong Lake is popular for its changing colors and emerging in different shades of blue, green, and sometimes red.
Surrounded by the barren Himalayas, this brackish lake is greeted by several migratory birds and is an ecstasy for photographers, ardent bird watchers, and adventure buffs. Tourists who love camping also get a chance to spend a night camping under the starlit sky and feel nature closely without any walls.
Brought to the limelight by the movie, 'Three Idiots', Pangong Tso is among the most renowned tourist attractions in Leh Ladakh having magical vibes that will charm you meticulously.
Go2ladakh.in tips: It is advisable to carry a basic medical kit with proper medicines as it is difficult to find in-house medical facilities in Pangong Tso.
Best time to visit: summer and winter
Inner  Line Permit: Required
Zanskar Valley:
Nestled in the eastern corner of Ladakh, the Zanskar Valley is one of the best places to visit in Leh Ladakh in June. Zanskar is a semi-desert and one of the most charming places in Ladakh. It is an ideal hill retreat with fantastic Tibetan-style monasteries, snow-clad mountains, and stunning landscapes.
Although the valley is cut off from the rest of the world for over nine months of the year due to heavy snowfall, it is very popular for its twisty trekking trails and daring white water rafting. Tourists like to explore this valley in cars and bikes to experience the thrill of driving through a challenging topography. The valley is also blessed with two small and serene alpine lakes that are simply gorgeous.
Do visit Nimu to see the convergence of the Zanskar and the Indus rivers and do not miss visiting the very famous Panikhar Fort located on the border of the Suru Valley. With azure blue streams and shimmering glaciers, Zanskar Valley is certainly among the best Ladakh tour package.
Go2ladakh.in tips:: Be sure to carry packaged water, route maps, and information.
Km from Leh :
Best time to visit: July to September
Inner  Line Permit: Required
Hall Of Fame: Nestled at Leh-Kargil Road approximately 4 kilometers from Leh, the Hall of Fame is a place that certainly makes every Indian very proud. It is certainly one of the best places to visit in Ladakh.
It is actually a museum that was built in memory of all the fearless soldiers who sacrificed their lives fighting for India during the Indo-Pakistan War. It is basically a heartfelt attempt to keep the soldiers alive in the heart of every Indian and to show gratefulness towards them.
The museum is divided into two parts. The upper part showcases arms, weapons, and apparel worn by the soldiers whereas the lower part consists of paintings, pictures, and biographies of the heroic soldiers.
There is also a wall named 'Lest We Forget' which exhibits the portraits of all those soldiers who gave their lives fighting. Visitors also get a chance to watch a detailed documentary on Kargil War. It is a great place to honor our daring soldiers who lost their lives to guarantee our safety and security. It is one of the best places to visit in Ladakh for tourists with children who are keen to know more about India's rich history.
Go2ladakh.There is an entry fee of INR 10 and cameras are allowed inside at an additional cost.
Magnetic Hill: Located at a distance of about 30 kilometers from Leh on the Leh-Kargil Highway, Magnetic Hill is one of the interesting places to visit in Ladakh and is very well known for its magnetic properties.
It is believed to have mysterious magnetic properties and this phenomenon is a sensation that attracts tourists from all over the world. The magnetism is apparently so strong that it has the power to pull a car uphill. Well, whether it is a visual illusion or actual magnetic force it is not certain but it is surely a fun thing to experience. So, be sure to include this phenomenal hill in your list of places to visit in Ladakh!
Go2ladakh.in tips: Make sure you carry enough water and snacks with you as this area does not have many eating joints.
Khardung La Pass
Want to know how it feels to be on top of the world? Well, head to Khardung La Pass, one of the highest motorable passes in the world and one of the best places to visit in Ladakh for adventurous visitors. It is a gateway to Nubra and Shyok Valleys with spectacular views of mountain valleys and swirling roads.
Also known as the 'Pass of Lower Castle', it is a very significant road as it is the way to carry necessities to the Siachen Glacier. Conversely, it is also a paradise for adventure buffs with several motorbike and mountain biking expeditions.
Tourists can also enjoy tea and snacks at the army canteen and buy knick-knacks from a souvenir shop. This mountain pass is on the bucket list of all travel junkies and undoubtedly one of the most loved tourist places in Ladakh.Go2ladakh.in tips: Since it is located at such a high altitude and oxygen levels are very low, it is advisable not to stop there for more than twenty minutes.
Best time to visit: April to September and winter snowfall, check the leh weather
Inner  Line Permit: Required
Leh Palace: Located in the capital town of Leh, the Leh Palace is the most excellent example of medieval Tibetan construction and architecture. Built in the seventh century by King Sengge Namgyal, it is made with mud, sand, stones, and wood which provides warmth in the winter season and sets up a cool atmosphere in the summer season.
Even though the palace is not classically decorated, there is something about the architecture of the palace which makes it appear majestic and grand. It is one of the best places to visit in Ladakh for people who like to explore the historical wonder. This nine-storied structure provides a panoramic view of sunrise and sunset and the bustling town of Leh.
It is open from seven in the morning till about four in the evening and is now a museum showcasing royal belongings and artifacts such as paintings, crowns, traditional dresses, utensils, and jewelry. This palace has an unparalleled aura and definitely cannot be missed by any traveler.
Go2ladakh.in  tips :
        Please note that photography is strictly prohibited inside the palace.
Best time to visit: all season
Hemis Monastery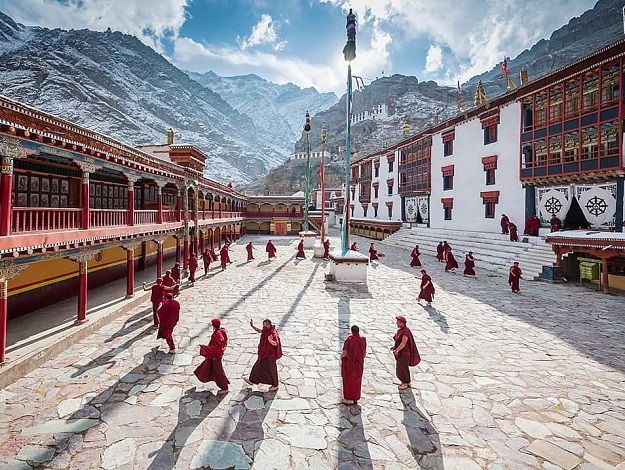 Nestled at the foothills of Indus, Hemis Monastery is one of the most popular places to visit in Ladakh. It is the largest monastery in Ladakh famous for its annual mask festival. It is also one of the richest monasteries in India with rare and antique copper statues of Buddha, skilfully engraved gold and silver stupas, and some out-of-the-ordinary Thangka paintings.
Tourists can worship the statues of Buddha and Guru Rimpoche and cleanse their minds and souls. The best time to visit this monastery is certainly during the Hemis Festival where tourists get a chance to see the performance of masked dancers, listen to melodious traditional music, and relish local delicacies. This monastery is beyond doubt an incredible mix of spirituality and awe-inspiring beauty that leaves the visitors in admiration of this wonderful place.
Go2ladakh.in tips: Shoes are not allowed inside the monastery so it is best to leave them in the car.
Best time to visit: Hemis festival in July
Tso Moriri lake 
Surrounded by a beautiful backdrop of the snow-clad mountains, Tso Moriri is the largest high-altitude lake in India and is one of the most beautiful places to visit in Ladakh. It is affirmed as a wetland reserve and claims to be the highest Ramsar site in the world.
With the reflection of the surroundings immersed in the azure blue waters, this scenic lake is massively beautiful and peaceful. The serenity and the tranquillity of the lake attract several migratory birds including the Brahmin duck and the brown-headed gull.
It is a perfect travel destination for bird watchers, photographers, peace lovers, and off-beat travelers who crave to see the untouched beauty of Ladakh. Due to its high altitude, it is a lesser-known lake and hence much less crowded than its contemporary twin Pangong Tso. Get ready to be hypnotized because this natural marvel will blow your mind away and compel you to simply stare at it endlessly!
Go2ladakh.in tips: Tso Moriri is in a remote area and therefore there is literally no network signal at the lake.
Best time to visit: summer and winter
Inner  Line Permit: Required
Shanti Stupa
Located at an altitude of about 3609 meters on a hill in Chanspa, Shanti Stupa is a magnificent abode of harmony and serenity and is one of the popular places to visit in Ladakh. Overlooking the bustling town of Leh, this glorious structure was constructed by the Japanese Buddhists along with the locals to rejoice 2500 years of Buddhism and is an emblem of peace.
It is a milky white-domed structure spread over two levels. The first level has a life-size golden idol of Buddha and the second level exhibits the life of Buddha from birth until death. Offering stunning views of the elegant surroundings, tourists come here to see the panoramic views of sunrise and sunset.
The gorgeousness of this stupa further enhances during full moon nights when it is naturally enlightened by the moonlight light. Reflecting unique architectural style, it is a wonderful retreat to cleanse the mind and soul and acquire peace. It is one of the most brilliant and unruffled Buddhist monuments and undoubtedly among the finest places to visit in Ladakh.
Go2ladakh.in tips: Be sure to wear comfortable shoes and clothing as reaching the top of the hill requires a small trek.
 Best time to visit: all season
Sangam Point: The word, 'Sangam' actually means meeting or confluence of rivers and Sangam Point is the place where the Zanskar River meets River Indus. Located on National Highway 1, this point is truly splendid and beyond comparison as both the rivers have distinctive and unique colors making it a sight to behold. While the Zanskar River is brown and slightly muddy, the River Indus on the other hand reveals emerald and green hues. Both the rivers form a single trail and are clearly distinguished by their colors. Although the confluence can be best observed during the spring-summer months the tranquillity, the aura, and the magic of the place can be felt the moment one reaches there. If you are a nature fanatic and are always keen to explore natural wonders, this place surely has to be on your list of the best places to visit in Ladakh.
Go2ladakh.in tips: The confluence point is located about 35 kilometers from Leh, immediately before Nimmu Village on the Shrinagar Leh Highway.
Best time to visit: April to September
Nubra Valley
Nestled at a distance of about 140 kilometers from Leh, Nubra Valley is unquestionably one of the most illustrious tourist attractions in Leh Ladakh. It is an expansion of the Tibetan plateau that divides the Ladakh Range from the Karakoram Range.
Being a high-altitude cold desert, this valley is renowned for the meeting of Shyok and Siachen rivers, double-humped camels, glistening streams, flourishing green villages, and rugged mountain peaks. Do take a roundabout route to see the distinguished white dunes of Hunder and get mesmerized by its ever-changing shapes and forms.
Do not miss visiting the famous Diskit Monastery and the hot springs of Panamik. Being in Nubra Valley is actually an eye-opener; it is surprising to see people living in such difficult conditions. The unearthly beauty and the vibe of this valley attract travelers from all over the world who yearn to visit extraordinary places.
Go2ladakh.in Nubra Valley has limited  ATM. It is advisable to carry cash from Leh itself.
Best time to visit: April to September
Inner  Line Permit: Required
Alchi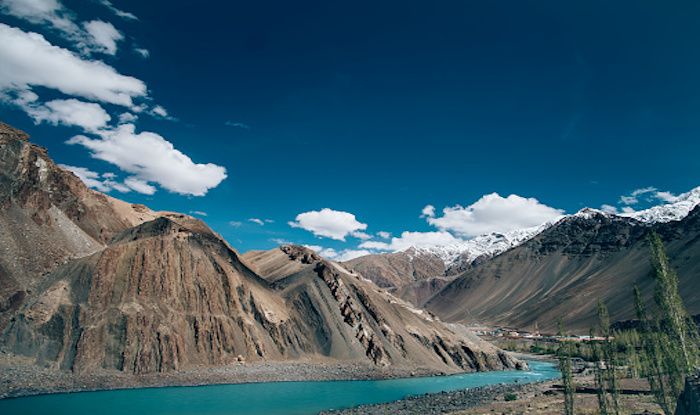 Nestled on the banks of River Indus, Alchi is a quaint little village in the Himalayan region of Ladakh. With fertile lands, lots of apricot trees, Buddhist monasteries, and temples, this village is nothing but spiritual bliss. It is also home to an ancient monastery that dates back to 900 years. Devotees from all over the world flock here in search of everlasting peace and solace.
In fact, it is one of the few places where you actually get a chance to learn the teachings of Lord Buddha and see the daily lives of the monks. If you are looking to discover the real Ladakhi village culture and life, Alchi will surely win your heart. Is breathtakingly beautiful scenery of this village gives all its visitors a wonderful chance to create memories of a lifetime.
Food lovers can also satisfy their culinary craving with super delicious local dishes such as Walnut Salad, Momos, Kashmiri Pulao, Baril, and Tangutur. Tourists interested in adventure sports can also indulge in river rafting at the Alchi Nyemo.
So, if you are looking for a tranquil stay away from the hustle-bustle, this place certainly deserves a chance to be on the list of the most unbelievable places to visit in Leh Ladakh.
Go2ladakh.in tips: Although there is a medical health care center it is advisable to carry basic medicines and sunscreen.
Best time to visit: all-season special visit in the summertime
Chadar Trek
Have you ever imagined walking on a frozen lake amidst snow-covered mountains and shimmering streams? Well, if yes, then Chadar Trek is the place for you. It is one of the most unbelievable places to visit in Leh Ladakh and probably the most adventurous, daring, and challenging treks in India.
In the winter season, the Zanskar River freezes and resembles a white blanket and since 'Chadar' means blanket, hence the trek is popularly known as the Chadar Trek. It is a six-day trek across the ice-covered Zanskar River which usually takes place during the concluding part of January till about the end of February depending upon the weather conditions.
The thrill of walking on the ice-clogged river, camping in caves, and the enchanting beauty is breathtaking and simply beyond comparison. It gives a great adrenaline rush and is meant for travelers who are ready to experience adventure at the greatest level.
Go2ladakh.in  tips: Tourists who intend to go on this trek must be fit and carry a medical certificate  read more Details about chadar trek 2022
Best time to do chadar trek: 10 January to Feb mid as per leh temperature
Inner  Line Permit: Required
Hemis National Park
Keen to witness the best of Ladakh sightseeing? If yes, then head straight to the Hemis National Park. Located at an elevation of about 3000 to 6000 meters above sea level, this park boasts to be the largest national park in South Asia and one of the best places to visit in Ladakh for its unique attraction.
Established in the year 1981, it is also known as the Snow Leopard Capital of India. It is renowned for sheltering quite a several snow leopards. The park also confines six villages – Kaya, Rumbak, Shingo, Urutse, Chilling, and SKU, which are home to some 1600 people. There are no hotels in or near the park but homestay facilities are found in all the six villages.
This national park is also a paradise for nature enthusiasts and ardent bird watchers as it is the protected home for rare animals like Leopards, Tibetan Wolves, Ladakhi Urial, Red Fox, Asiatic Ibex, Shape, Wild Sheep and over 73 species of birds and about 17 mammals.
Get a chance to enjoy a pollution-free environment, serenity, trekking, and hiking, and make the most of it!Go2ladakh.in  tips: Vehicle movement is strictly banned inside the park and trekking is the only option hence be sure to wear comfortable shoes
Best time to visit: summer and you can also visit from April to October
Tso Kar
Scattered over an area of about 9 kilometers, Tso Kar is a marvelous saltwater lake at the Rupshu Plateau in Ladakh Valley. Situated at an elevation of approximately about 14700 feet, this lake is supposed to be more peaceful and serene than its other two contemporaries (Pangong Lake and Tso Moriri). It has that untouched feel about itself and is also widely known as the White Lake due to the white salt deposits on its shores.
Displaying amazing flora and fauna, this lake attracts several migratory birds such as black-necked cranes, Brahmin ducks, and bar-headed geese. Offering great views and lovely opportunities for photography, this oscillating lake is surrounded by yak sheds, nomadic families, and a monastery.
With several picturesque bounties in its abode, it is an excellent place for overnight camping, bird watching, or simply sit back and have fun in the surroundings. What are you waiting for? Just add Tso Kar to your Leh Ladakh sightseeing list.
Go2ladakh.in tips: Options of food are quite limited at the lake so it is advisable to carry your own food along.
Best time to visit: summer  June to October: suggested visit special visit bird watching tour
Inner  Line Permit: Required
Lamayuru 
What if we tell you that we can take you to the moon? Neither literally nor metaphorically. Experience how it feels like to walk on the lunar landscape at Lamayuru – our very own 'moonscape' in Ladakh. Located on the Leh-Srinagar Highway,
this is a spectacular piece of land famous for its ancient monastery, ethereal geological formations, and breathtaking beauty. The best time to visit Lamayuru is in the summer season between April and August.
Location: Situated at the height of 3510m, it is located on Leh-Srinagar highway and 127km from Leh city center. If you're driving from Srinagar to Leh, you must visit this place for some cool pictures.
Timings: Sunrise to sunset is the best time to witness the beauty of monasteries and other-worldly landscapes.
Best  time to visit: April to October
Pang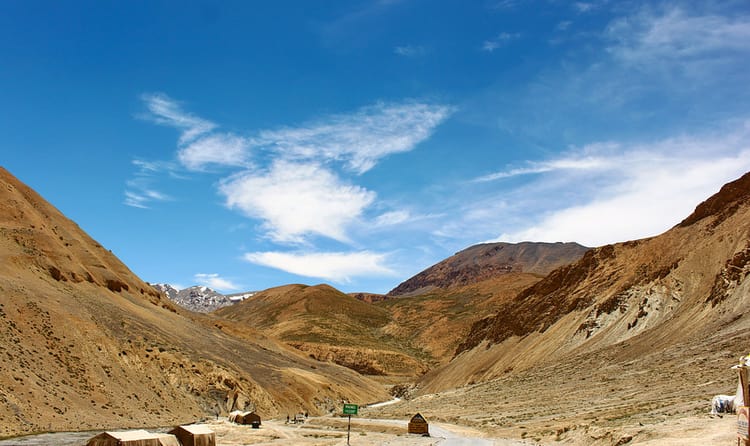 Blessed with the ardent beauty of the valleys and spectacular landscapes, Pang is the highest army transit campsite and one of the most picturesque places to visit in Ladakh. The untouched terrains and tiny hamlets on both sides make the whole region jaw-dropping beautiful.
Located at an altitude of 15640 m and closer to the borders of China and Pakistan, it is a remote location yet to be explored by regular tourists. If you're traveling to Leh, it is a perfect overnight stay location. June to October are the best months to witness this place in its full glory.
Location: 180 km from Leh City center on Manali-Leh Highway.
Best time to visit: from June to September
Jispa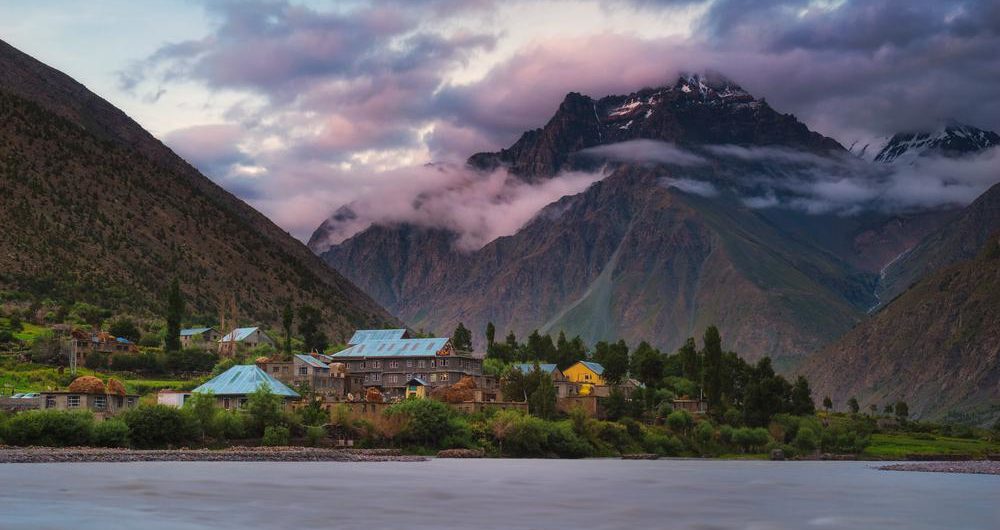 Camp beside the scenic riverside and mist-covered mountains in the valley of Lahaul, Jispa is straight out of a landscape painting. The unaudited beauty and fresh mountain breeze of this quaint village make it the best place to unwind after a long journey.
While it is a known pit-stop among adventure enthusiasts passing through the legendary Leh-Manali Highway, this hamlet is still a hidden gem for the common public. Trek through the rolling meadows or devour some lip-smacking local food- Jispa won't leave you disappointed!
Location: One of the 20 villages in Lahaul Valley on Leh-Manali Highway. 7 km from Darcha.
Best time to visit:  June to September and you can visit in winter
Chang La Pass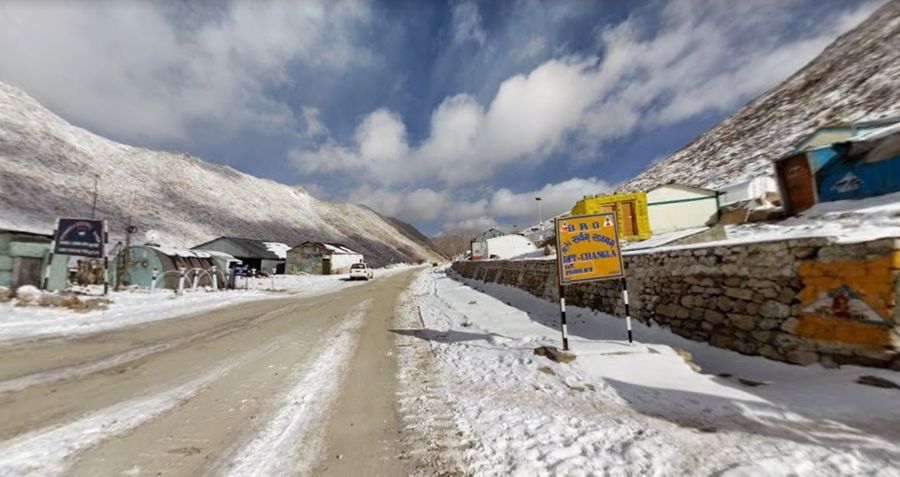 Behold the spectacular views of arid landscapes, spellbinding valleys, snow-capped mountain peaks, and rolling meadows, ChangLa Pass is one of the highest motorable roads in India. Famed as the Gateway to Pangong Tso, it is a popular spot to have a hot cup of tea and Maggie at an elevation of 5360 m. While here, Thiksey Monastery, Shey Palace, and Hemis are some of the nearby tourist places in Ladakh that can be explored.
Location: It lies on Highway-21 (Leh-Manali Highway) between the valleys of Leh and Shyok River.
Go2Ladakh Tip: The pass is smoothly operational between May and October. and you can also travel via change pass to Pangong lake other
Inner  Line Permit: Required
Tanglang La
Embark on an exciting journey to the second highest motorable road in Ladakh. Experience the thrills of riding on a loose stone road, with unexpected twists and turns at low oxygen levels. It is a vast expanse of nothingness and with only Sarchu and Upshi as the nearest human settlements. Located at an altitude of 17582 ft., this hinterland is one of the most popular places to visit in Ladakh among motorcyclists.
Location: Adjacent to the NH -21 or Leh-Manali Highway and can be reached through 21 Gata loops.
Go2ladakh Tip: April and May are the best months to ride on Tanglang La as the weather is warm and pleasant making the journey less difficult.
21) Lamayuru Monastery
Bask into the calming vibe of Lamayuru Monastery in Ladakh. Perched on a cliff amidst the mysterious valley, it is among the oldest and largest monasteries and important tourist places in Ladakh. It is so old and full of lore, which can be seen in its architecture, wall paintings, and history.
While here, walk past the prayer wheels, explore the old structures of the monastery, enjoy the panoramic of the valley, marvel at the temple art, or simply sit in meditation. This place will only leave you with good memories.
Location: B.P.O Khaltse, District Leh, Jammu and Kashmir 194106
Timings: 7:00 AM to 6:00 PM
22 Darcha 
A lonely cluster of makeshift huts and camping tents, Darcha should be on your list of lesser-known places to visit in Ladakh. It is the last destination of the famed Padum trek in Zanskar, and the northernmost village of Himachal Pradesh along the Manali-Leh Highway. Blessed by the gushing blue rivers and spectacular views of the Himalaya ranges, Darcha is waiting to be explored.
Location: In the Lahaul Region of Lahaul and Spiti District of Himachal Pradesh near Leh-Manali Highway.
23) Spituk Monastery
Spend the day exploring the ancient memorials, impressive frescoes, numerous thangkas, intricately detailed statutes, and age-old scriptures, Spituk is truly a paradise for history buffs. Currently, it is home to 100 monks and the carefully hidden image of Mahakali.
Spituk means exemplary and this 11th-century monastery does justice to its name. The annual Gustor Festival is the best time to experience this place in its full glory; witness the temple deity – Mahakali and enjoy the traditional Cham Dance.
Location:  8 kilometers from Leh in Spituk Village, Leh district, Ladakh, northern India.
Timings: 5:00 AM to 7:00 PM (Mondays to Sundays)
Best time to visit: all season
24 ) Gata Loops
Located at the high altitude of 17000 ft, Gata Loops should be on your list of mysterious places to visit in Ladakh. It is a series of 21 hairpin bends leading to the top of Nakee La – one of the highest motorable roads in the region.
Apart from the eerie legends, it is also known for the wonderful views of snow-laden mountain peaks. A unique amalgamation of adventure, mystery, and beauty, Gata Loops awaits you!
Location: Situated on Leh-Manali Highway and 25km from Sarchu in Leh.
Tip: The best time to pass through is from June to September.
25  Markha Valley Trek
A stunning river valley nestled in the spectacular Hemis National Park, Markha Valley is a popular tourist place in Ladakh and a prime trekking route. This trail offers some of the best trekking experiences in the region. Cross waist-deep rivers and the high passes like Kongmaru La at 17,060 ft.
Enjoy outstanding views of Mt Kang Yatse and mesmerizing rocky canyons. Who knows, you might also spot a snow leopard. Markha Valley trail is full of adventure and incredible beauty that you mustn't miss!
Location: Leh, Ladakh sham valley
Best time to Markha trek: summery and autumn
26 ) Suru Valley
A break from the vast barren lands of the region, the green landscapes of Suru Valley feel like a breath of fresh air. Dotted with villages and plantations and the view of Suru River and the majestic Himalayas in the background, it is one of the most beautiful valleys on the face of this earth. Spend a day in Suru, and you will not feel like leaving!
Location: Suru Valley is situated on Kargil Road across Pensi La.
Best time to visit: spring &  summertime, explore the apricot blossom tour
27 War Memorial Kargil
Pay homage to the bravery and sacrifice of the Indian Army officers and soldiers in the 1999 Kargil War. Get to know the challenges faced by our brave soldiers in the higher terrains of Drass, Kargil, and Batalik and still emerged victorious. The Kargil Memorial is open throughout the year.
However, the roads to Kargil are only operational from March to  October.
Go2ladakh.in tip
Best time to visit:  independence day 15 august best time, normally you can travel from march to October  from Srinagar to leh
please check Kargil  to Drass valley  road status if you travel in winter and spring
Location: Kargil War Memorial, NH1-D, Drass, Kargil-Ladakh 194102, India (The memorial is located on the main highway connecting Kashmir and Ladakh.
Timings: 10:00 AM – 5:00 PM (Monday to Sunday)
28   Siachen Base Camp
Witness the world's highest battlefield in the world where nature is a bigger threat than bullets – Siachen Base Camp has now been opened for tourism by the Ministry of Defense. Experience what our soldiers go through daily to protect the most strategic point of the border.
At an altitude of 24000 ft, the temperature drops to less than -50 degrees and oxygen saturation- only 10%. Apart from all this, Siachen is one of the most challenging places to visit in Ladakh and a once-in-a-lifetime opportunity.
Location: Siachen Base Camp in Partapur, Ladakh
Tip: The civilian treks are approved by the MOD, but the actual opening is yet to be announced.  As of now tourist not allowed to travel to the Siachen base camp
Best time to travel: April to September
Inner  Line Permit: Required
29)  Turtuk
 Carts full of barley straws and land covered by apricot trees, encircled by the picturesque mountain valleys, Turtuk is a beautiful hamlet lying on the banks of Shyok River and is a wonderful tourist place in Ladakh. Due to its 2.5km proximity to LOC, it is seen with military convoys.
Most of the population here is Muslim Balti and practices agriculture and cattle rearing. With Nubra Valley on one side and Baltistan on the other, Turtuk is an enigma in itself.
Location: Leh District of Nubra Valley and 205km from Leh city.
Best time to visit:  June to September
Inner  Line Permit: Required
30)  Rancho school 
Relive the movie 3-idiots by visiting the beautiful campus of Druk White Lotus School. Popularly known as the Rancho School, it is an educational institution that focuses on eco-friendly activities, innovation, and local culture; good for us – it is also open for tourism.
You can get yourself clicked at the iconic 3-idiot wall or chill at Rancho Cafe. This school is much more than the movie and is an important place to visit in Ladakh.
Location: Situated on the way toward Shey Palace and Thiksey Monastery in Shey Region of Ladakh.
Timings: 9:00 AM to 6:00 PM
31)  Ice stupa
Straight out of the Disney movie – Frozen, The Ice Stupa is yet another one of Sonam Wangchuk's projects. Witness two giant artificial glaciers created in the form of beautiful stupas adorned with colorful prayer flags. It is an innovative solution to the water crisis of Phyang village in Ladakh.
It is a one-of-a-kind innovation under the Students' Educational and Cultural Movement of Ladakh (SECMOL) and should be on your list of places to visit in Ladakh.
Location: Phyang Village, Leh District, Ladakh (17km from the Leh City Center)
Best time to enjoy Ice stupa: Preferably during the day during the Winter seasons (December to March)
32 Pathan Sahib Gurudwara
Meditate at the same place where the most-revered Sikh guru – Guru Nanak Ji once meditated. Famed by the place where 'Guru Nanak Ji defeated a demon', this place has a very intriguing story attached to it.
It was founded by the lamas covered in prayer flags and is worshipped by Buddhists and Sikhs alike. The boulder is the major highlight of the gurudwara which is believed to have the body imprint of Guru Nanak Ji. Currently maintained by the Indian Army, it is a must-visit tourist place in Ladakh.
Location: NH1, Phey, 194101 (Near Kargil)
Timings: 4:30 AM to 8:00 PM (All days a week)
Best time to visit: All time
 33 Stok kangri:
If you are a passionate trekker, Stok Kangri should definitely be on your list. The highest and most prominent peak in Ladakh is every adventure lover's dream. Soak in the enchanting panoramas of the Karakoram and Zanskar Ranges, and the fresh mountain breeze while you ascend on the mountain.
If you're lucky, you can also get a sneak peek of K2. Upon conquering the peak at an altitude of 6153m, quaint villages, picturesque views, untouched beauty, and intriguing stories, are some of the few things you'll take away from this trek.
Go2Ladakh Tip:
Stok Valley route is closed for the year 2021-2022 due to the threat of glacial melting.
Location: It is situated in Hemis National Park near Stok Village and around 15 km away from the capital city of Leh.
Permission: Trekking Pass Required
Timings: The best time to take this trek is between May to October.
34 Basgo palace
A dreamlike assortment of sky-high temples, ancient structures, impressive murals, and spectacular mountains in the background, Bags Monastery was once an incredible castle and the capital of lower Ladakh. The mind-boggling murals and wall paintings, and three breathtaking temples – Chamba Lhakhang, Cham Chung, and Chamba Serzang are every historian's dream.
Dating back to the 13th-15th century, it was home to a fine two-story Maitreya sculpture and precious manuscripts in gold and copper. The ideal time to visit Bagso is from April to June when the weather is pleasant and the routes are clear.
Location:  40km west of Leh in Basgo, Jammu and Kashmir 194101, Leh, India
Timings: Sunrise to Sunset
Entry Price: INR 30 for each temple / free
35 Kargil :
The second capital and second-largest city of Ladakh, Kargil is an iconic destination for the entire nation. Famed by the Kargil War of 1999, it is one of the best places to visit in Ladakh to experience patriotism. Apart from being rich in cultural, historical, and political importance, it is a beautiful city nestled in the mountains.
There are many things to explore in Kargil – Kargil War Memorial being the highlight along with the Twin Lakes, Mulbekh Monastery, and Rangdum Monastery. Nestled right in the middle of majestic Himalayas and beside the pristine Indus River, Kargil is nothing less than a heaven.
Location: Kargil, Kargil District, Ladakh
Best time to visit:  April to September
36 Thiksey monastery
Our very own Patola Palace of Tibet, Thiksey Monastery is one of the prime places to visit in Leh Ladakh. It is the largest monastery in the central land of Ladakh and is commemorated by the 14th Dalai Lama in the 1970s.
A 15m tall statue of Maitreya Buddha is the main attraction here along with the stunning Assembly Hall, Tara Temple, and Lamokhang Temple and Quarters. If you want to experience the monastery at its best colorful self, you must visit during the Gustor Festival in the month of October-November.
Location: Thiksey, Manali-Leh Highway, Ladakh, India.
Timings: 7:00 Am to 7:00 PM
Entry Fee: INR 20 per person
Best time to visit: All time
37  Hanle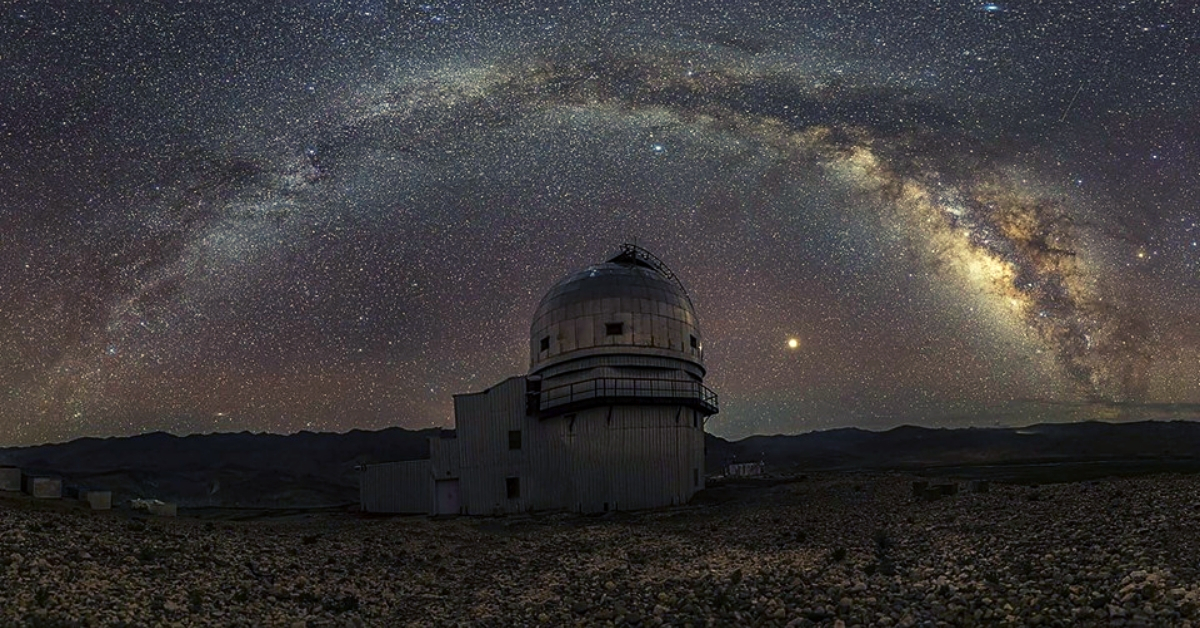 Stargaze from one of the highest astronomical observatories in the world, Hanle is a quaint, peaceful, and calm village away from the hustle-bustle of busy life. Noted for being home to the Indian Astronomical Observatory at the height of 15000ft, it also has some historical relevance to it.
Check out the 17th-century stunning Hanle Monastery against the mesmerizing backdrop of the mountains, it will transport you to another place. An ideal place for some soul searching, Hanle is a hidden gem waiting to be explored!
Location: Hanle Village, Changthang, Ladakh. It is located 255km from the city of Leh.
Best time to visit: April to September
Inner Line Permit: required
38 Sonmarg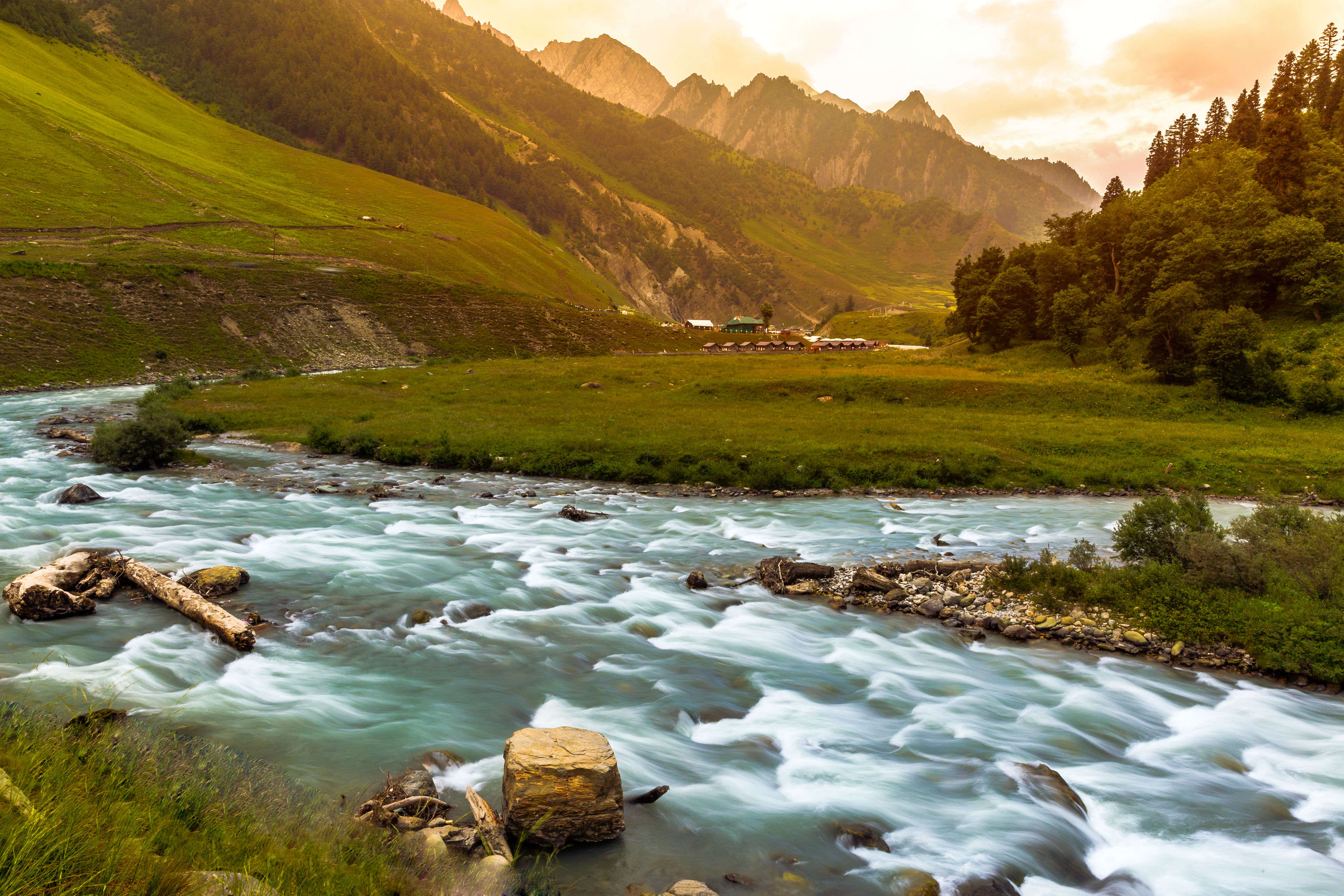 Translated as Meadow of Gold in Kashmiri, Sonmarg is a beautiful concoction of lush green valleys, pristine lakes, snow-capped mountains, dense forests, and numerous peaks. Located at the height of 2800m, it offers a chance to unwind and heal amidst Mother Nature.
A popular honeymoon destination in the north, it also caters to adventure enthusiasts.  Trekking, Rafting, and Camping are a few of the many adventure activities you can indulge in. Sonmarg also serves as a camping site for pilgrims heading to Amarnath. An all-in-one destination, Sonmarg is the best vacation place you can ask for!
Location: Sonmarg, Ganderbal District, J&K, India. 85 km from Srinagar and
Best time to visit: all-season please check to Zojila pass road status in winter from Srinagar
39 Donkey sanctuary
Go check out a sanctuary that is entirely dedicated to the most hardworking animal – the Donkey. Don't believe us? The Donkey Sanctuary is one of the most unique places to visit in Leh Ladakh. It is a great project by Stany and Joanne and sheltered by a local Sonam Angchuk.
The sanctuary takes in the stray donkeys, and heals, shelters, and cares for these poor souls. The best way to help them is to give donations and find their fundings.
Location: Korean Temple Road, Khakshal Village, Leh Ladakh. It is only 3 km from the city of Leh.
40  panoramic hot water spring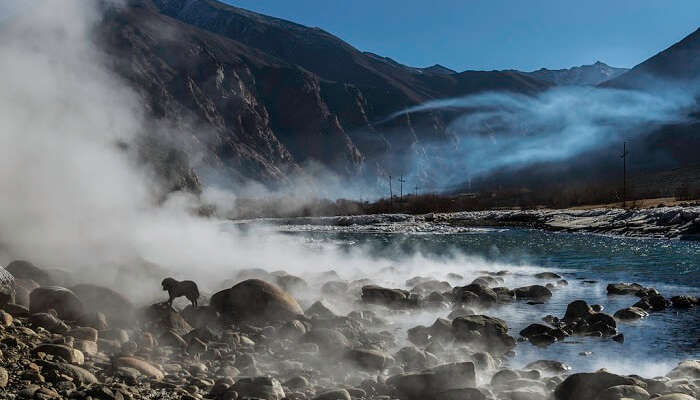 Unwind at the Panamik Hot Springs in Ladakh surrounded by the stunning views of the Himalayan mountains. Located in the Panamik Village, it is the best place to visit in Ladakh after an exhausting trek or a long tour.
The sulfur-rich waters of the spring are believed to cure rheumatism and major skin ailments.  With proximity to the Siachen Glaciers and Indo-Tibetan border,  this entire region is blessed with the breathtaking beauty of the trans-Himalayas.
Tip: Men and women have separate pools along with a shower area to provide a comfortable experience.
Location: Panamik Village, Nubra Valley, Ladakh, India. Approximately 150 km north of Leh City Centre.
Timings: Sunrise to SunsetEntry Fee: INR 20 per person
Inner  Line Permit: Required
41: Mulbek Chamba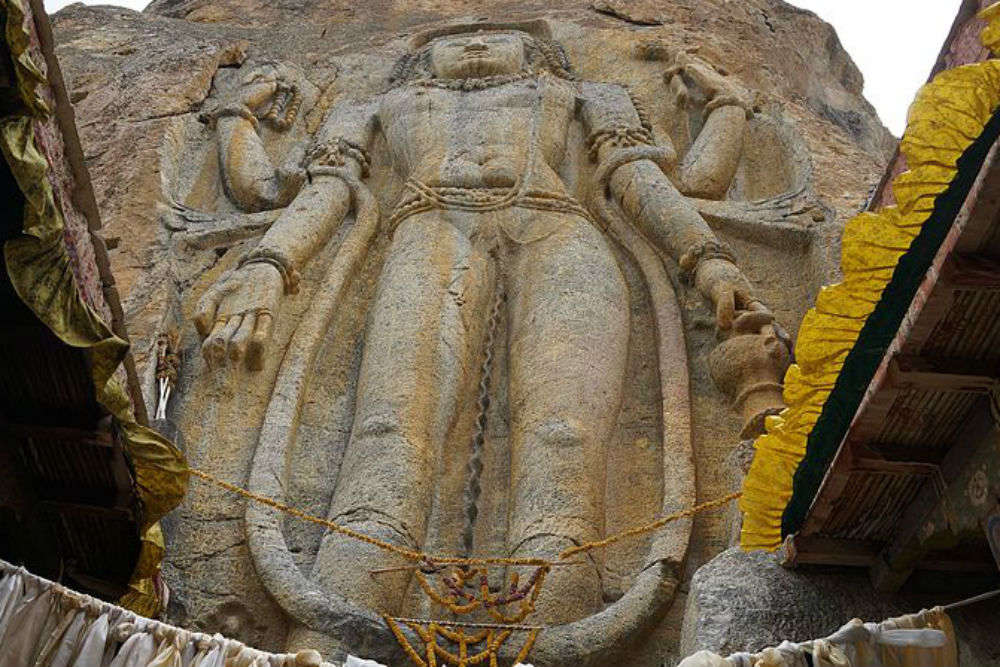 Home to a 30 feet tall sculpture of Maitreya Buddha, carved on an enormous stone slab, Mulbekh Monastery is one of the amazing offbeat tourist places to visit in Ladakh. Dating back to 800 years, it portrays some mind-boggling influence of both Buddhism and Shaivism. There are two gompas inside the main temple – Serdung Gompa and Rgaldan-se Gompa. If you're heading to Kargil, you must add this to your itinerary too.
Location: Situated on the first stop after Kargil towards Leh on the Srinagar-Leh highway. It is 260 km away from Leh and 45km from Kargil.
Timings: 08:00 AM to 06:00 PM
42 Phyang Monastery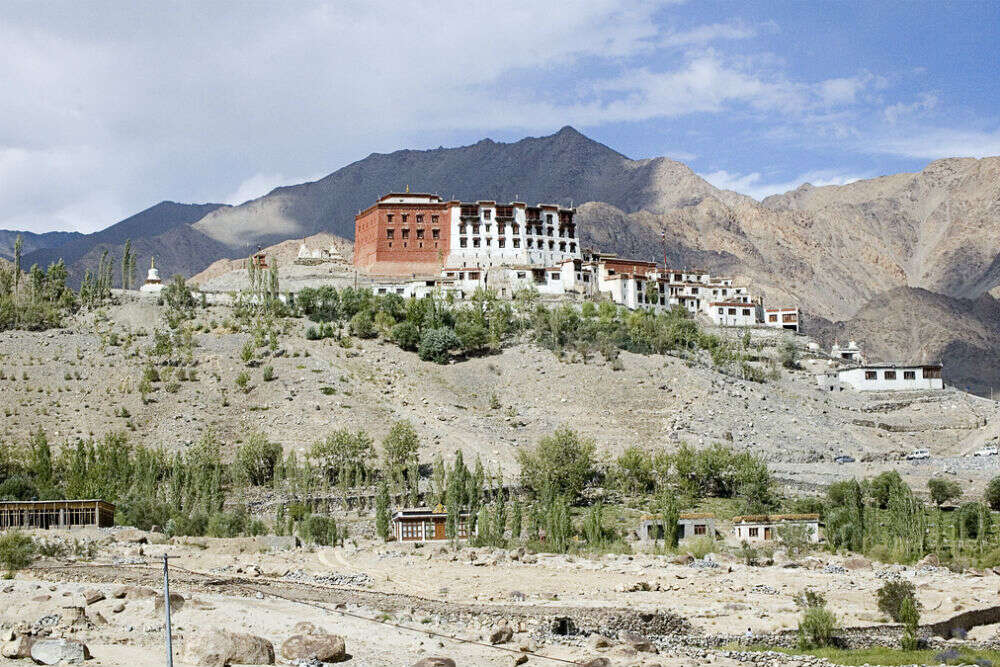 Perched on a hilltop above the tiny village of Chhiwang is the stunning Phyang Monastery. The gompa is home to a plethora of statues, paintings, murals, and artifacts as old as 900 years. There is so much to witness here that the best way to explore this place is to get on with it.
The monastery starts with the Dukhang or main assembly hall leading to Dukhang verandah intricately painted by the colorful murals of the Guardians of the Four Directions. The central statue is of the Boundless Light Buddha besides the statues of a large Avalokitesvara with 1,000 arms.
You can also find images of Shakyamuni and Maitreya among other religious and non-religious artifacts. Don't forget to check out the temple of Mahakala. A paradise for historians, Phyang Monastery is one of the best places to visit in Ladakh.
Location: Phyang Village, Leh, Ladakh. Around 22 km west of Leh city.
Timings:  6:00 AM to 6:00 PM
Entry fee: INR 30 per person
43 Mahabodhi Meditation Center
Looking for a spiritual retreat amidst the picturesque mountain ranges? Then Mahabodhi Meditation Center is the perfect place for you. Established in 1986 by Bhikkhu Sanghasena, this place offers both spiritual as well as humanitarian assistance to the needy in the remote areas of Ladakh.
Attend a 14-day meditation session where you get to meditate at a different picturesque location each day under the guidance of experienced masters. Mahabodhi Meditation Centre is one of the best places to visit in Leh Ladakh for people looking to heal their mind, body, and soul.
Location: Mahabodhi International Meditation Centre, Devachan, Leh, Ladakh
Best time to explore  summer wellness tourist  and other time also for mind healing  program
44  Secmol school
Founded by a group of Ladakhis to reform the educational system in 1988, The Students' Educational and Cultural Movement of Ladakh is a great initiative to develop young minds along with conservative. The school campus is completely eco-friendly and offers courses such as the solar design-build course.
SECMOL has also been an active part in finding solutions to the geographical challenges of Ladakh; some of them include providing renewable energy through solar panels, solar pumps, biomass cooking, and growing organic food, and preserving it for winters.
They also solve the water scarcity issues in the area. They are also a part of the Ice Stupa initiative. A group of good people doing good work; SECMOL is one of the best places to visit in Ladakh.
Location: SECMOL Campus, Phey, Ladakh. Situated next to Indus River, 17km away from Leh.
45 Atal tunnel
Drive through the longest tunnel in the world, the Atal Tunnel is one of India's star possessions. This 9.02 km-long tunnel connects Manali to Lahaul-Spiti Valley.
A tribute to former PM Atal Bihari Vajpai, this tunnel is open for year-round connectivity even in the harshest winters. Now reaching Leh in the peak winters via road will seem like icing on the cake. So, pack your bag and head on the road trip of your lifetime!
Location: Atal Tunnel, Manali, Himachal Pradesh
Best time to  travel: all season
46 Apricot flower in Ladakh
The vibrant white-pink flowers against the clear blue skies against the backdrop of barren mountains, the apricot blossom in Ladakh is a sight to behold! It is India's version of Cherry blossoms in Ladakh or maybe even prettier than that.
The bloom is seen in the offbeat regions of Leh-Kargil including Hardass, Kakkar, Aryan Valley, and many more. Usually seen in April, it makes the region one of the most spectacular places to visit in Leh Ladakh. So, head to Ladakh to get the experience of cherry blossoms without burning a hole in your pocket.
Location: Different regions of Leh and Kargil in Ladakh
Best time to visit: March to April end
Inner  Line Permit: Required
47 Ladakh conclave
Witness the culture and talent of Ladakh at the Ladakh Conclave. Held in February, it is a one-of-a-kind initiative by the Ladakh government as a road map to winter tourism in Ladakh. Till now, Ladakh was only visited by tourists for the Chadar Frozen Lake trekking experience.
But through this conclave, Ladakh will be showcased as the hub of winter sports, culture, and culinary experiences.  Some of the highlights of this conclave include Mountaineering, Heritage walks, Polo Match, Rafting, Climbing, Cultural procession, etc.
Location: The venue includes two of the most popular places to visit in Ladakh – Leh, and Kargil and will be celebrated both online and offline as per COVID-19 protocols.
Timings: Sunrise to Sunset
48  Tibetan market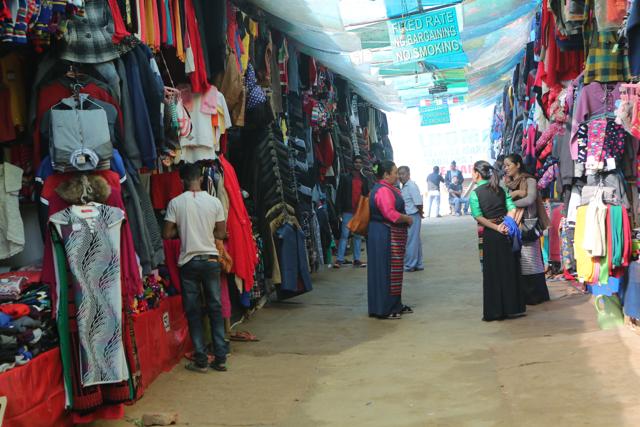 Shop till you drop amidst the mesmerizing Himalayas and verdant valleys. The Tibetan Market is among the important places to visit in Leh Ladakh for every shopaholic. It is a typical flea market thronged with stalls selling antique items,
semi-precious stone jewelry, world-famous silver Ladakhi jewelry, Himalayan Pashmina shawls, homemade apricot jam, local handicrafts, and whatnot. It is the best place to take home quality souvenirs at dirt cheap prices.
Go2Ladakh Tip: Keep aside your last day of the trip for a stress-free shopping experience.
Location: Leh City, Ladakh, India
Timings: 9:00 AM to 7:00 PM ( All Days Of The Week)
49  Stok palace
Step back in time at a 200-year-old palace in Ladakh, the Stok Palace is an ode to the royal era of the Namgyal Dynasty. Currently, a part of this structure is a heritage hotel, a museum, and a cafe.
The museum houses some of the most valuable possessions of the royal family such as the  King's crown, jewelry embellished with turquoise and lapis lazuli, the queen's yub-jhur(headpiece), and their dresses.
There is also a knotted 16th-century afghan sword and impressive thang pa paintings, making it one of the best places to visit in Ladakh for art historians. End your tour with a hot cup of coffee at the in-house cafe overlooking the River Indus and spectacular valleys.
Location: Stok Palace Museum, Stok, Leh, Ladakh, India
Timings: 8:00 AM to 5:00 PM (all days)
Entry fee: INR 50 per person (Museum)
50 Shey palace
Get awe-inspired by the 17th century Royal Palace atop of Shey Ridge or the three-storied copper gilded statue of Shakyamuni Buddha it houses. Shey Palace is one of the best places to visit in Ladakh.
This enchanting palace entails a series of ruins, a palace temple, and many articles of historical importance. In August, the Shey Palace transforms from ruin to royal. During the festival of Shey Doo Lhoo, it comes alive with spirituality and devotion. The palace is accessible through a steep climb but the result will be worth it.
Location: Shey, 15 kilometers from Leh, Ladakh, India
Timings:  7:00 AM – 8:00 PM. (All days of the week)
Entry Price: INR 30 per person (For the Monastery)
Frequently   tourist Asked Questions About Places To explore In Ladakh
Best time to visit leh Ladakh
Ladakh is perhaps among the best places for a vacation in India. The mountains make for a picturesque setting, ideal for an escape from city life. The best time to visit Ladakh is from April to September.
In the late spring to the summer season, you can appreciate the outdoors easily, when the snow has melted and the weather is wonderful. The best thing about summers are the amazing places to visit in Ladakh and the celebrations that take place, including the popular Hemis Festival.
Winter has its own appeal. January to February is the ideal time for the iconic Chadar Trek. For adventurers, there are numerous skiing or trekking opportunities along the tough terrains of the region. Despite the season you visit, the beauty of Ladakh will always leave you in awe!
Best Tourist Places to visit in winter
Nestled in the laps of the mighty Himalayas, Ladakh is an unending natural vista of verdant valleys, cold deserts, enchanting gorges, and stunning monasteries. Ladakh is a dream for tourists during summers, but it is the winters when it becomes magical.
Some of the best places to visit in Ladakh during winters are Frozen Pangong for the views, Hemis Wildlife Sanctuary to spot the snow leopard, Leh Palace to get face to face with history, and many more. From December to February, Ladakh transforms into a fairy tale that is worth paying a visit to.
How to  reach Ladakh
The Land of High Passes, Ladakh attracts several tourists from across the globe. Whether you are an adventure enthusiast, photographer, history buffs, nature lover, honeymooners, or solo traveler, Ladakh will surely leave you bewitched.
Ladakh is accessible by road, rail, and air.
By Road: You can reach Ladakh through two main highways – Leh Manali Highway and Leh- Srinagar Highway. You can hire a cab or jeep or public or private buses to reach Ladakh or drive yourself.
By Train: The nearest railway station to Ladakh is the Jammu Tawi Station. From there, you can hire a cab or rent a vehicle.
By Flight:  The closest airport is Kushok Bakula Rimpochee Airport situated in Leh. There are many connecting flights available from major northern cities like Delhi, Srinagar, and Jammu.
Things to do in Ladakh
Rich in natural beauty, stunning vistas, exotic flora, and fauna, fast-flowing rivers, sprawling landscapes, gorgeous monasteries, and rugged terrains, Ladakh caters to the needs of every kind of traveler. There are several things to do in Ladakh. If you're looking for adventure, you can take the chadar trek or other treks or go river rafting in Zanskar Valley.
You can find history and spirituality on a monastery hopping tour of Ladakh or explore some of the best places to visit in Ladakh. If looking to unwind, head to the hot water springs of Panamik and Sumer Valley. Wildlife enthusiasts can try to spot the majestic snow leopard at the Hemis National Park or do bird watching near Tso Moriri. The options are many but the thrill you get out of them are unlimited!
Did these incredible places to visit in Ladakh get you excited already?
Well, Ladakh is a place that clearly cannot be expressed in words. You have to feel the magic of Ladakh yourself. Majestic in its capacity and enthralling in the depth and diversity of its experiences, Ladakh is one of the most excellent holiday destinations in the world that satisfies the appetite of every traveler.
It is a fantastic mix of stunning landscapes, peaceful monasteries, adventure sports, and leisure experiences that will surely leave you with grand memories to cherish forever. So, pack your bags to marvel at the bounty of the natural beauty of Ladakh, to feel closer to nature, and finally to treat the holidaymaker in you!